Ahoj from the Good Ship R. Tucker Thompson. Waking in Awaawaroa bay was a little chilly, in the shade for the morning swim. Duties were soon completed, breakfast consumed, anchor up mainsail hoisted and out into the brilliant sunshine and a good looking day. We were soon at Rawhiti to pick up 10 students from the USA Diplomacy Corp and their Leaders for a day aboard with us. They were staying at the marae with Suz Te Tai and Te Pou Herenga Tangata for their first full day in Ipipiri. Our trainees welcomed them onboard with Tucker style and soon had the keen ones climbing the rig, others sat about and chatted as we motored to Moturua for a quick island hop from Waiiti to Otupoho, the Tucker motored around to meet them. Once back on board some of the students took on the Tucker Challenge, (thanks to Chynna for doing the extra 7 turkshead) while others  went for a swing swim and 3 had their first actual ever swim with the aid of floatation and much encouragement and support from our trainees. You can be well proud of your moko. Eloise produced a mass of macaroni cheese for all,  a big lunch after all the fun and more international korero, the putatara (conch shell) was passed around to some great results.
Then trainees stepped up to introduce setting sails on a Tall Ship as the headsails were hoisted, topsails lowered with help from Amy, and set, then back to the korero. Joel at the helm tacked the ship,  Croydon and Shane braced the yards Alexia, Tangiao, Ruby and Hinerangi worked the headsails, then up with the Top Gaff for a sensational return to Rawhiti Inlet and ashore for the students and leaders. It was an eye opening experience for all onboard and new facebook friends were made.
The Tucker trainees were soon can we, can we…….and we headed over to Urupukapuka Bay for a last island visit, paddock tumbling, hill hiking, table chatting, ball throwing, beach combing time. The sun left the beach as Tangiao and CJ swam for the ship. We then had a sunset motor to the overnight anchorage and a  last swim, Croydon, Shawna, CJ, Shane, Tangiao, Dean, Jamoor.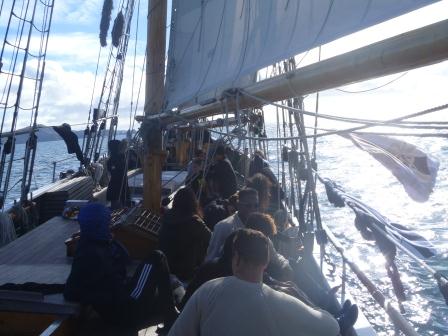 Below Magnus is cooking up the last supper of roast pork and smells fill the ship of deliciousness. Fishing sounds a little slow on deck, and the trainees below and happy in the warmth. Excitement of homecoming is mixed with the realisation of new friends departure.
See you at 2pm on the Opua wharf.
Ma te wa