Ahoy friends and family, from the R. Tucker Thompson. Today has been an action packed day starting off with the usual freezing morning bath in the ocean.
Chores completed above and below deck, and breakfast devoured, we set off out to sea to drop our scraps past the 3 mile mark. With a good sized swell and plenty of wind, we had an awesome sail. Dean, Jamor, Hinerangi, Tangiao, Amy and Croydon had a blast riding the bowsprit up, over and through the waves, getting absolutely drenched when the big ones hit. Ruby, Shawna and CJ meanwhile were on deck jumping up as the ship sailed over the waves and getting lots of air on the way down.
After our sail, we headed into Motuarohia for some lunch (pizza!) and a walk up to the lookout.  Rambling round the rocks the boys fouund a mean ledge to show off their skills with Shane, Croydon and Tim taking the drop into the channel, CJ and Hinerangi and Eloise went for a mermaid swim in the lagoons and then we hoisted anchor and went over to Awaawaroa to stay for the night.
Fishing lines down and hope in everyone's heart, a small snapper was hooked and released. But there was some excitement when Alexia got the catch of the day! An orange octopus in a green bucket with horse mussel shells in it. After a good look, octopus was released back with his home to the depths.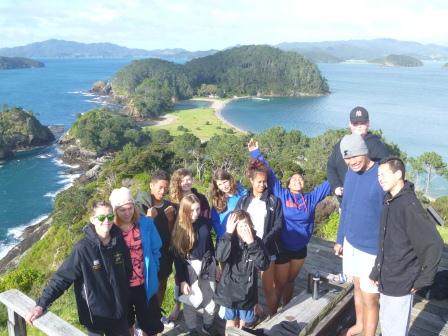 Now we are learning Maori words, breathing in the yummy smells of dinner cooking, and excited for our day tomorrow. Goodnight!