Ahoy from the Good Ship R.Tucker Thompson, cosy up at anchor ready for a wild night and wet day to follow.  We stretched the day out to the maximum, starting with a morning swim in the calm of the sunrise over Pukehuia. Duties and breakfast and anchor up and heading for the outside of the Bay and Cape Brett, the Hole in the Rock. Two groups ventured through the hole in the tender and returned with big grins and laughs. Back on board, sails hoisted for an excursion on the edge of the Pacific Ocean then a course change to take us into Deep Water Cove and lunch to settle stomachs. While the dishes were been cleaned up the wetsuits were on the keen ones. Alexia, Amy, Croydon, CJ and Shawna had a great snorkel on White Reef with lots of fish about and Croydon got some kina for the bros who were back at the ship, climbing the rigging and showing off some manu.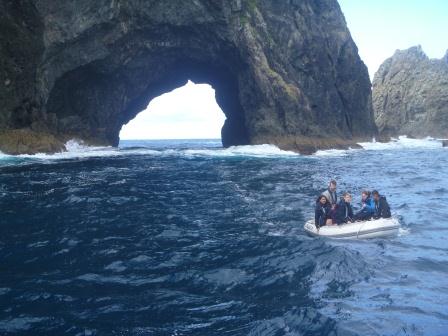 Then it was more action, sails re-hoisted and course set back inside to Urupukapuka bay and some time ashore, couple of ball games, hill climb, then 30 minutes of silence amongst a grove of trees. Back on board at twilight and set sail, navigation lights on, flashing buoys and beacons guide us to our overnight anchorage in Te Hue.
Seems already like we been together longer than the twenty four hours, the lines are been memorised, friendships formed, stories told and so many laughs. Tomorrow is looking at a full on class as we wait for the weather to clear.
Ma te wa