We awoke to the normal routine of the morning swim, before the bad weather arrived then gathered into our cleaning duties which was shortly followed by breakfast.
Throughout the day we taught safety at sea, learnt the ropes of the ship, found out a lot about the R Tucker Thompsons finances and how much money is needed through fundraising in order to operate the youth voyages.
While soup was being prepared for lunch, we also had a lesson on navigation.
After lunch (with scones), we made the most of the rainy weather to learn card games and ukulele songs. It was an afternoon full of laughter and fun.
CJ, Tangiao, Croyden, Jamor and Shane all bravely went for a swim in the howling wind and rain, emerging with huge grins on their faces. This was enjoyed by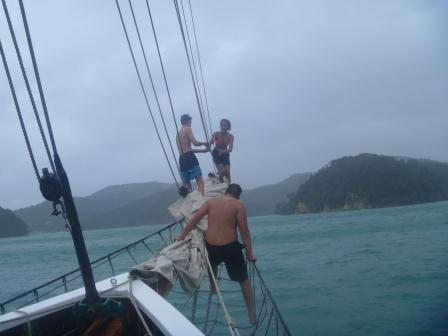 everyone watching the backflips, manu and staples performed by the swimmers.
Dinner was a delicious corned beef, eaten with the sound of raindrops on the cabin top. Now we are awaiting banana loaf before we head to bed.
Today many more friendships were made. It is a day to remember as the bay echoes our laughs throughout the night.
Goodnight.