Ahoy from the Good Ship R.Tucker Thompson, the morning swim was the best start to the morning of the week, calm and cool with the sunrise and promise of blue skies.
After a nice toasty shower, the morning duties and a hearty breakfast the trainees were ready to begin their busy day. We began with a few classes below as a random shower came through, weather was topical, tides, anchoring, recycling fishing regulations and the Phonetic Alphabet.
As the showers passed the anchor up and setting sail for another place to visit. We headed towards Urupukapuka and landed in Otaio Bay where we enjoyed curried sausages for lunch.
With full stomachs the trainees launched the tender, and headed ashore. A walk out to the spectacular seaward cliffs with views out to Cape Brett and north to Tikitiki with a black band of rain heading our way, deciding to shorten the hik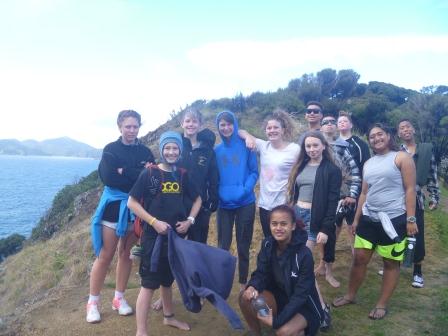 e to a quick blast down to the Viewing Hide and shelter, the first arriving a little damp, the last a little more wet. Enjoying the weather were 6 brown teal or pateke upon the pond. The first ferry arrived back at the ship with the next batch of blue sky, Lil Tuck our rowing dinghy was soon been paddled, rowed, laughed about the bay, the swing in action and with the last of the trainees onboard , CJ, Shawna, Shane and Hinerangi were up for the Tucker Challenge before we left our day behind us and motored to our overnight anchorage in Orokawa, facing a beaut sunset, Ruby and Tangiao stepped up for the Challenge and got their bracelet/anklet.
Enjoying sitting about the ship, out on the bowsprit, around the table of chilling with the breeze the trainees reflected on a busy and fulfilled day, what brings tomorrow?
Ma te wa