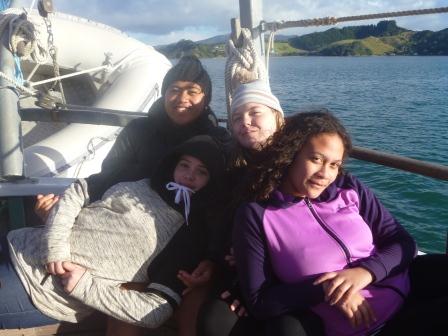 Hello Folks! Our third day on the ship began with our normal morning routine, swim, duties and breakfast. Then, with a big journey ahead we set sails and raised the anchor. Nikki, Kyle and Adrian volunteered to be the first trainees to lead a sail raising each for the Mainsail, Foresail and Headsails. The day was calm with light breezes coming from the West as we left the Bay of Islands and sailing towards Cape Brett. Nikki and Adrian, keen climbers both, went up the mast to untie the Top Sails with Magnus, which were also set. We looked the part as two different tour boats came past to take photos. Quiet time for 30mins followed the hard work. Cornell took the helm and kept us on course while everyone else spread out on deck for some silent, solo contemplation. Upon arriving at Cape Brett, some sails were lowered and the dingy was launched while the ship held position. All the trainees got to go through the "Hole" in the dingy. What an experience.
Sails set, underway again, heading southeast; Lunch was served on deck and accompanied by a pod of common dolphins. Jessica, Myah, and Tama helmed (steered) the ship. Lessons on tying knots and the local fishing regulations were had underway. As the day went on the wind got stronger, up to 20 knots making us lean sideways. This didn't scare anyone though. We did a man over board drill and Eloise and Katrina made a butter cake.  Six hours after leaving we sailed into Whangaruru Harbour and all hands lowered and stowed the sails. Katrina was at the wheel as we navigated up harbour. At anchor finally Piet, Adrian, Paige and both Tama and Cornell rowed Lil Tuc to a "better spot". Then a bit of a swim in the sunset was had by Ruahine, Page, Tama, Jessica, Katrina, and Adrian. Kyle and the Sarianna took the dingy to tow Lil Tuc back to the ship. Lastly, everyone helped clean up the ship, putting things away for the night.
Now we await dinner. Guitar and ukelele are playing and cards are out, pleasantly warm down below decks. Tomorrow we will explore this area a bit before traveling further south.