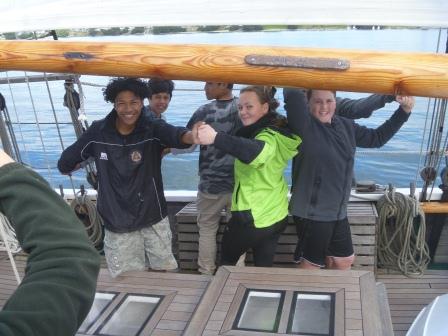 Kia Ora everyone!
We left Marsden Cove today with the most beautiful winter day above us. With glassy flat seas, only the most gentle of breezes and lots of sunshine!!! The trainees soon got to know each other by raising the sails (Mainsail, Foresail and Jib sails) and by playing some ice breaker games. I would say this group has bonded quickly the evidence it that the ship is already noisy! After setting sails and games the Trainees unpacked and lunch was eaten as the ship was steered up the Whangarei Harbour to Onerahi for a bit of sightseeing from the sea. As the ship turned back towards the harbour entrance the Trainees cleared away the lunch dishes and then proceeded to get a lesson in how to use the harnesses to safely climb aloft. Everyone climbed and took in the many sights the harbour has to offer including getting up close with the giant, log-carrying ships at Marsden Point.
After a little time taking in the sights and getting used to climbing the rigging (in calm seas) all hands were called to the deck to help lower the sails and stow them for night. As we exited the harbour and rounded Busby Head, Smugglers Cove entered into sight. Anchor down, shoes off, time to go ashore and stretch the legs. On shore, the trainees were introduced to a daily tucker routine known as "quiet time" (A period on time allocated for silence and no communication with others, self-reflection, rest, and meditation) followed by a little walk and some games before returning to the ship for a swim as the sun went down. Now dinner is being cooked, mmmmm yum, and the Trainees are gathered in the saloon, learning from the captain about living on board a ship. It's warm down below but a cold night out on deck!
We are soon to be anchored in Peach Cove For the night. All Well.
Tomorrow we sail north to Tutukaka Harbour. From all of us, good night!