It was the normal 0700 start this morning, then straight into the morning swim and hot shower. Ryan and Marika were the first trainees in the water this morning.
This was followed by the morning duties and then a delicious breakfast.
Then time for class. We discussed knots and what their different uses are and also, wind, weather tides and anchoring and how they work.
It was then time to move anchorage, setting a course for Endico Bay.
Before we got very far it was time for another practice man over board as Matua Wiremu's pants flew over board. The trainees' attitudes towards the drill were very successful; however, Matua Wiremu's pants had sunk before we could make it in time.
The trainees managed to find some free time on the motor towards Endico Bay.
Card games seemed to be the main attraction for the day.
After a bit of fun it was pizzas and left over soup for lunch! Yum!
Once the dishes were completed it was decided we would head to land.
Because some of the trainees looked like they were drained on energy, we gave out chocolates for everyone.
It was time to hit the loop track, we reached the other side of Entico bay where we completed our 30 minutes of reflection and silence. Matua taught the trainees a few Maori games, Kokopaepae, kotuia were on the agenda today.
Logan was very good at side stepping everyone, and Claude is very fast! There was plenty of laughter and fun.
The trainees have organised a surprise for our arrival tomorrow so we decided to give them some time to practice their performances.
Before heading back to the ship, the trainees deserved an afternoon snack of chocolate fingers, many thanks to Logan's parents for supplying them.
Shortly after arrival on the Tucker we hoisted anchor and headed towards our night anchorage in Orokawa Bay.
The trainees are now enjoying their last night of bonding together, while we wait for the amazing roasted dinner.
Goodnight! See you all tomorrow at 1400!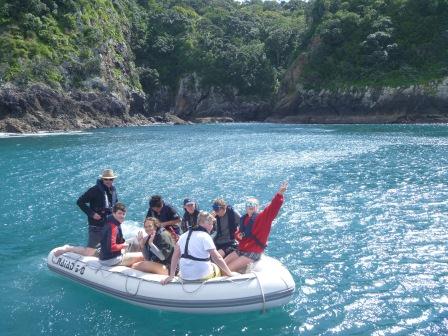 Save