Our 0700 start this morning started with an exciting morning swim with Te Werawera being first in the water. This was shortly followed by morning duties and a scrumptious breakfast of eggs and porridge.
We then educated the trainees on Belaying so when it came to sailing they would know how to correctly put their lines away. They also had a lesson on how to put the sails up, what lines to use, and how to reef the mainsail.
After we raised the anchor we were away. We went for a long sail towards Tapeka before tacking and heading around the back of Roberton Island later landing in Urupukapuka Bay.
A beautiful meal of corn fritters and sausages was served for lunch before we launched the tender and headed for the beach.
On arrival everyone participated in the 30 minutes of silence under the beautiful pohutukawa trees, lots of games and competitions were also played before arriving back on the Tucker.
The trainees noticed the Dolphin Seeker approaching us and Te Werawera and Garry were glad to perform a Haka. Kaleb even had time to grab his bagpipes and perform a beautiful song. Dolphin Seeker was so stoked they threw chocolates for the trainees.
When all the fun was over it was hot chocolates for everyone.
Once again we raised anchor and headed towards our night anchorage.
On our way we noticed an old pilot whale washed up on the beach so again we launched the tender to have a closer look.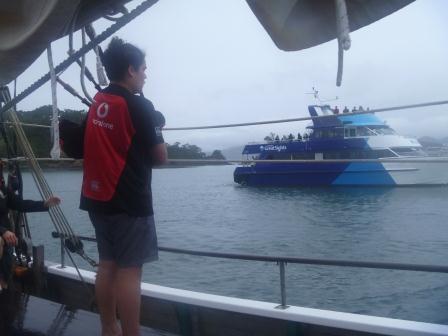 While this process was happening we organised a "planned man over board" where Caleb gladly put his hand up to be the person we were rescuing (He did a very good job at acting the part as the trainees had no idea we had this planned) unfortunately the trainees were slow to respond but a successful rescue was made.
After getting Caleb back on board we continued heading towards our night anchorage in Parekura Bay. We dropped the anchor and some people had the opportunity to complete the Tucker challenge. Ryan was the first person to complete it followed by Te Werawera.
Everyone is now gathered down stairs telling each other stories while we wait for an amazing scrumptious dinner.
Goodnight!!