What a first day!
After leaving all the friends and family in opua and setting sail, we meandered out into the bay while everyone unpacked their bags and settled into their home for the week.
A friendly pod of dolphins stopped by to say hello before we headed into Wai Iti bay on Moturoa Island. A lunch of mac n cheese was devoured and with full bellies we headed ashore for a quick game of touch and a walk around the whole island.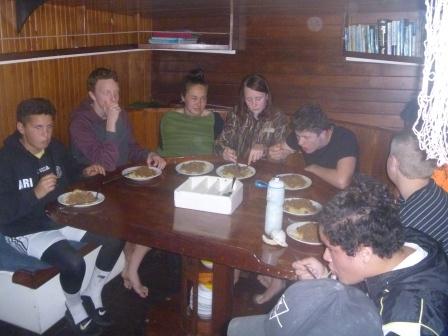 Back on the ship, Ryan, Caleb, Te Werawera, and Sarvanna bravely jumped into the water via the rope swing, it was not warm! Then we motored around the corner to find our night anchorage in Awaawaroa Bay.
Now we are going through and learning about all the different parts of the ship while our dinner of spag bol is being cooked. Yum!
Po marie from the good ship the R Tucker Thompson