Ahoy!! From the Good Ship R. Tucker Thompson.
The 0700 start began with the usual morning swim, hot shower, then straight into morning duties.
After an enjoyable breakfast of eggs and left over potatoes we waited for some light showers to clear by doing some class, well received by all. Fishing Regulations and Phonetic Alphabet. Trainees have quickly grasped the concept of hoisting and setting sail, with the main, fore and headsails well under control after just two days. We left Parekura into a building south westerly, across to Poroporo on port with Kaleb on the helm, then tacked to starboard to Orokawa with Caleb on the helm; by this time Te Werawera was aloft joined by Logan, Garry and Wiremu.
We then tacked back to port to lay a course which would take us onto the edge of the Pacific and the leftover nor'west swell, much to the delight of Ryan and Marika out on the bowsprit. With swells swamping the scuppers, Atarea and Ari, delighted in the experience of the leeward action. We headed across the Bay to Tikitiki and the calm of Harakeke to lower and stow sails. Magnus gave us a hint of a substantial seal colony in and around the caves so he took the trainees on an expedition in the tender much to their delight! And this was all before lunch!  With Chynna below in the galley, we motored towards Moturoa,  Sarvanna and Claude took the opportunity to go aloft and enjoy the view putting on a fine performance as lookouts.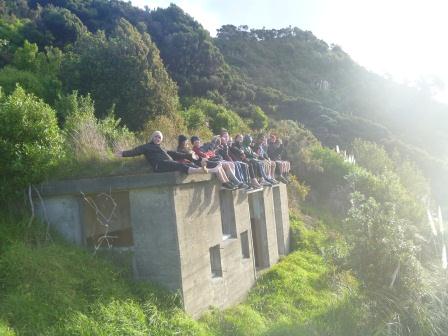 Once anchored at Moturoa we had our delicious lunch and made plans. A dive was the first request, hands were soon on deck, wetsuits out. Magnus led the party with Eloise, Caleb, Te Wera, Ari, Ryan and Marika off gathering kaimoana, some kina in good condition and two crayfish the prize.
As a squall went through we were below with hot drinks planning the shore trip. From the beach we climbed to the WW2 gun emplacements for a panoramic view of the blustery Bay, all our maunga were in full view, from Rakaumangamanga to the southeast, 360 degrees to Wiwiki in the north east. As we settled down for 30 minutes of silence. Matua Wiremu was busy with some harakeke making us a kii for a beach game we played as the sun sunk on the Tucker at anchor. Eloise spent all this time busy with the boil up which we are now awaiting the final serving. The ship is loud with laughter, warm with cooking, a gentle sway waiting to send us off to sleep.
Ma te wa.
Save