Last night Matua Wiremu gave the trainees a quick class on Polynesian Navigation.
He showed the trainees all the relevant stars for navigating and how to use the stars to find your bearings. During his lesson, through the shine of the moonlight some dolphins passed by to say hello.  The trainees were amazed and decided to take part in a dawn sail so that Matua Wiremu could teach them more.
It was a 0530 wake up this morning. The trainees were awoken by the sound of the conch shell and tiredly made their way up on deck. Matua shared a lot of his knowledge to the trainees which they were very grateful for and will remember for years to come.
After class, we hoisted the anchor, set the sails, and it was hot chocolates for everyone!
We set a course for Deep Water Cove and along the way we cast some fishing lures in hope for some yummy kai moana. Caleb's hands were glued to the helm for the day.
During the sail the trainees were down stairs keeping warm and helping themselves to breakfast.
On arrival we dropped the sails and anchor then launched the tender for those who wanted to explore the beautiful reefs of Deep Water Cove. Ryan, Marika, Sarvanna, Claude, Atarea and Caleb all enjoyed the beauty of the reef, while Te Werawera, Logan, Ari, Kaleb and Garry all decided to stay back at the ship to help the skipper Tim, complete the morning duties.
Once everyone arrived back from the chilly depths of Deep Water Cove, it was time to get changed and carry on with our journey. Once again we hoisted anchor and set sail while we set a course towards Robertson Island. After lowering the anchor, it was time for lunch. We enjoyed an scrumptious fry up and plenty of leftovers from yesterday's meals. After the dishes were done it was time to relax. The trainees all enjoyed some bonding time, while others decided to use their free time to have a quick nap.
After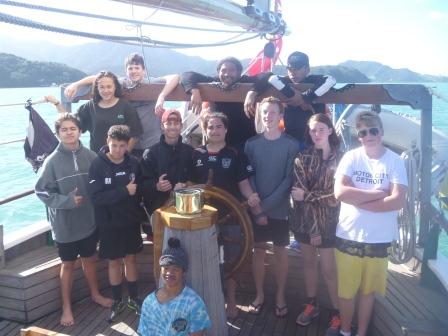 a couple hours it was time to have some fun, so we launched the tender and headed for the beach. We made ourselves comfortable before starting our 30 minutes of silence.
Then it was more leisure time! Trainees had the option of doing the 10 minute island walk; enjoying the beach and lagoon, or having a paddle in Lil Tuck (the Tucker's designated row boat). As the sun started to set, the trainees made their way back to the boat. We put Lil Tuck away then hoisted the tender and anchor and headed towards our night anchorage in Orokawa bay, ready for the heavy rain over night. Magnus prepared a delicious silver side meal for dinner that left everyone wanting more. We are now clearing the dinner dishes, while others are playing games in the saloon.
The bay will be echoing with our laughs tonight.
Goodnight!
Save