Kia ora from the Good Ship R.Tucker Thompson, safe at anchor well to the south, tucked in under Paparahi. With the winds last night howling through the halyards and rattling the ratlines we awoke this morning to calm, sunshine and extensive blue skies with the promise of favourable winds to assist our passage. Swim, shower, duties, breakfast and dishes all accomplished we were hoisting sail and raising the anchor by 0900. As we left the inner islands to port Orca were sighted by Hayley, Catalina and Kali. Emmanuel was on the helm and soon had us tacking through the breeze too spending a short time with them as they circled and fed, seagulls crowding the skies for any scraps. But we had a sail plan and were soon on our way out through the Albert Channel and into the Pacific Ocean.
T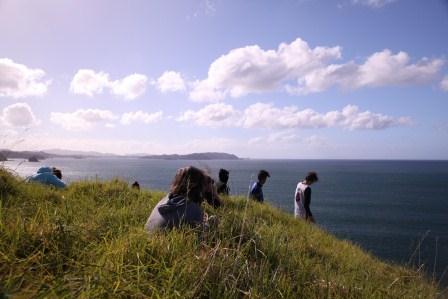 he bowsprit was again popular with Tangaroa, Boston, Catalina,  Zaedyn and Jonothan. Passing Piercy island in confused seas only a short glimpse of the hole in the rock as we altered course for the south and calmer waters. A brisk breeze gave us some exciting sailing and with lunch on deck in sunshine we were cutting a fast track, passing Whangamumu and Whanagruru with our anchorage attained at 1330. A brief rest, then Magnus was lowering the tender for a crew dive and trainees ashore to climb a pa and enjoy 30 minutes silence after the busy morning. All back on board the trainees were up for a swim and hot chocolate,
Cole and Tangaroa jumped off the ratlines into the water with some big splashes. Wayne returned with Eloise, together with a crayfish, butterfish and porae. Which Catalina is preparing for lunch tomorrow in a traditional Peruvian/ kiwi  dish……even though she is Chilean!
Kali and Hayley did the Tucker Challenge in the afternoon sun whilst Magnus and Tim stood on deck watching with Caitlin… convincing her that it is possible… (maybe tomorrow!)
Save