After welcoming the trainees aboard their floating home for the next week, we set the fore sail as we waved goodbye to everyone's loved ones.
The name game broke a bit of silence between the trainees, and some people explained the origin of their name.
The trainees then all experienced hoisting the mainsail and headsails.
Macaroni and cheese was prepared for lunch shortly after and everyone devoured their meal.
Then it was a bit of a sailing practice as we set a course for Moturoa Island.
We were straight into orientation was we approached Moruroa, after completing that, half the trainees made their way down stairs to unpack their luggage while the other half were having safety lessons for when we climb aloft (Tennesse, Pearl, and Tyler were monkeys in the shrouds) once the trainees had rotated and everyone's bags had all been emptied into their allocated draws, we talked about safety drills and what to do in different types of emergencies.
This was shortly followed by an abandon ship drill that went very well and everyone managed to evacuate in a time of 5 minutes.
10 minutes later we got ready to head towards the beach.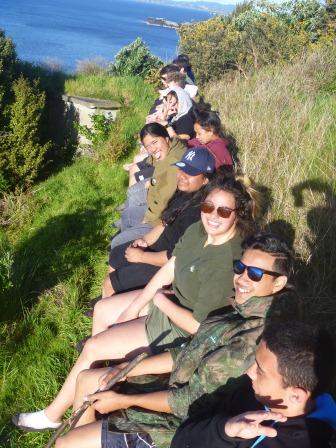 A lot of the trainees were exhausted from the hike up the hill, but it was worth it when they came across the hidden gun emplacements from World War 2.
There was a bit of time for exploring before we made our way back down towards the boat.
Once everyone was settled in and back on ship, it was time for an afternoon swim!
Nikora, James, Aiden, Harmonie, Tasman and Tyler all couldn't wait to get in. Rebecca and Alice were having a laugh on the bow, while Jade, Pearl, Tennesse and Hope were all down stairs in the galley helping to prepare dinner.
Everyone made their way around the table for a quick game of cards before having a revised class on safety at sea.
We are all now completing our 30 minutes of silence while we wait for an delicious meal of cottage pie.
Pomarie, goodnight!