Another action packed day on the R. Tucker Thompson!
First in the water this morning was Jack, very tactical with a quick jump in and straight out into the shower. Chores and breakfast done, we then made a packed lunch in preparation for the day ahead. As we motored over to the main Cavalli Is, trainees ran through a lesson on biosecurity.
Trainees and Magnus and Eloise were dropped on one side of the island to walk across and meet up on the other side. As we came to the beach we were saddened to see a few dead pilot whales on the beach. The walk across the island turned out to be awesome, with the energetic boys- Cody, Lorenz and Ishmael right up the front running up the hills. Everyone else stuck together and encouraged each other to make it to the end of the track. Back on the Tucker we then had Grace, Georgia, Lorenz, Nesta and Jack all complete the tucker challenge, well done!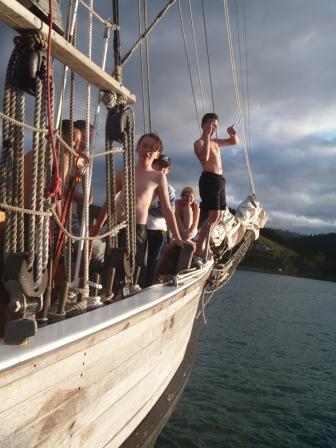 We then headed off to the beach, Grace, Ishmael, Ethan and Nestor went for a snorkel while the others played games on shore. Coming back to the ship, a lovely smell was wafting out of the galley. A cake had been made!
Cake devoured, we hoisted anchor and headed in to Whangaroa for the night with Kahi and Mikaira both taking the helm.
Dinner has been eaten and we are all sharing stories before bedtime.
Po marie