Today started early, with all our trainees plunging into the lovely warm waters of Tutakaka Bay followed by a steaming hot shower on deck.
The skipper Tim laid out the plan for the day which involved some motor sailing to Mimiwhangata. This meant setting some sail, the two gaff sails and headsails in fact! The trainees practiced line handling – capsizing, sweating and tailing a line, making fast and coiling down. After some practice, it was anchors away and a short sail away to our next anchorage.
We anchored up in Mimiwhangata and attempted some knot lessons before heading out to the beach in the Tucker Ferry. It was a pretty wet landing! We played many games on the beach including a Hawaiian inspired danced carefully taught to us by Emmanuel – apparently a Zumba instructor in a past life.
Some of the crew and the trainees rescued a stricken dinghy from the beach and once the skipper checked it over we brought it along with us back to the ship for repair.
The late afternoon was filled with more swimming whilst Taliyah and Miriama diving for kina (sea urchin) and were successful i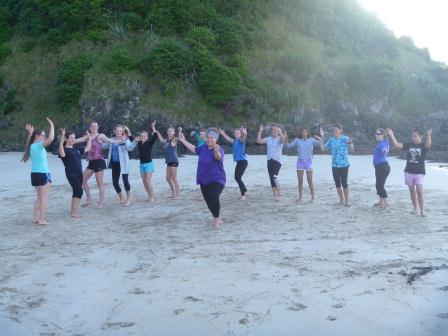 n their mission, catching quite a few!
Jeanne, Amelie, Kylie, Cherie and Taliyah were brave enough to complete our Tucker Challenge today whilst anchored in Paparahi Bay. The Tucker Challenge involves climbing all the way up to the second highest yard on the mast (the lower topsail) and walking all the way along the yard to touch the yardarm at the end – it's a mission only for the very brave and everyone who completes it gets a lovely turkshead bracelet to commemorate the feat especially by the crew. We think there are going to be quite many bracelets being handed out in this voyage!
Today also was the inaugural day for the baking challenge with Team 1 (Teaghan and Tovy) starting off with self-saucing chocolate pudding, yum!
We ended the day with a yummy dinner of roast chicken rice and veggies served by our trusty chefs Chynna and Janna followed by the first desert of the voyage, the self-saucing chocolate puddings. As we settled into our second anchorage it felt like our little ship R Tucker Thompson was enveloped by the stars.