Kia ora from the Good Ship R.Tucker Thompson
We survived the overnight gales and rain and woke to squalls and showers which prevented the early morning swim. Straight into breakfast and a morning full of class activities, Navigation the main subject, then an introduction to the Tucker Trust and the financial aspects, Bio Security, Nutrition and Recycling got us up to a steaming lunch of soup and toasty scones. Dishes completed and blue skies above, we were all keen to change anchorages and keep exploring with too few days left.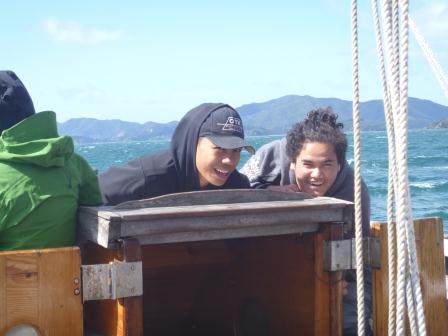 The trainees excelled in sail hoisting and handling with a strong south westerly greeting us as we left  our sheltered bay. Caleb at the helm, soon relinquished to Claude then Te Werawera as we weaved and wore our down the channel back to Urupukapuka. Sails doused we anchored in relative calm, with 35 knots over the top of the hill we found entertainment aboard ship. The Tucker challenge became the main focus as trainees went aloft one after the other. Marika, Garry, Sarvanna, Logan, Atarea, Claude, Kaleb and Ari all achieved their bands. Caleb was otherwise occupied creating a beautiful chocolate cake for afternoon tea much to the delight of us all. Then it was swim time, from the shrouds and the swing with a bonus shower as reward. The squalls are back as the hills around us darken with thunder, the rigging is devoid of climbers, the decks clear of swimmers, the only light left is that for the anchor indicating our position. The galley is again popular with steaming aromas of dinner preparation. We are all safe, singing , laughing, recounting our days of adventure. One more full day ahead to complete our tasks. Ma te wa.
Save