R. Tucker Thompson
Northland's iconic tallship
The R. Tucker Thompson is an iconic tall ship based in the Bay of Islands. Operated as a social enterprise, we run tourism sailings over summer, with profits used to fund youth development voyages over winter.
Do join us!
Nau mai haere mai, Welcome on board!
For 35 years the R. Tucker Thompson has been creating memories for people who come sailing with us. We are a Qualmark Gold experience with 5 star ratings on Tripadvisor. We're a not for profit Charity so funds earned from sailings go to support taking young people on life changing voyages. Do join us!
Prices
Adult: NZ$ 159, Child NZ$ 79.50
includes morning tea, lunch and ferry transfer
Infants under 5 go free (no meals included)
Sundowner sailings
Short on time? Why not join us on our Sundowner sailing, starting 13 November 2020.
Departs:   4.00 Russell Wharf
Returns:   5.50 pm Russell
Includes:   Ferry transfers from Paihia to Russell return, shared antipasto platter. Cash bar available.
Prices
Adult: NZ$ 67.50, Child NZ$ 33.75
includes shared antipasto platter and ferry transfers from Paihia
Infants under 5 go free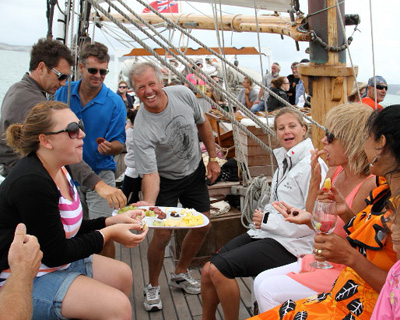 Special Sailings
Our next scheduled special event is the annual Tall Ships Race in Russell in early January.
Check out our Special Sailings pages for Community events and short sailings such as our ever popular Kiddies Pirate Sail.
Bay of Islands Discovery Voyage
The Bay of Islands is not only a place of stunning scenery, but rich in stories. A place of first arrivals from Polynesia and significant Māori settlement, home to early encounters with European explorers, a place of trade and industry, colonisation and subsequent wars. Nowadays the focus is on recovery and restoration, with landscapes being restored and native birds returned to the islands. Now it is your chance to step on board and discover what it is like to explore the Bay of islands on board a tall ship.
Latest blogs from on board the ship
We are tied to the ocean. And when we go back to the sea, whether it is to sail or to watch, we are going back from whence we came.