The R. Tucker Thompson Sail Training Trust
The R. Tucker Thompson is operated by a not-for-profit charitable trust. All income derived from our tourism sailing activities are used for her maintenance, as well as providing a contribution to help Northland youth access the sail training voyages. In this way, the ship can continue to provide pleasure and learning to people of all ages; young and old, Māori and Pākehā, visitors and Northlanders alike.
The ship was originally owned in partnership by Tod Thompson, Greta Simmonds and Russell Harris until 1992, when Russell purchased Tod and Greta's shares in the ship. On reaching retirement, Russell wanted to protect the future of this Northland icon and on 4 June 2006, transferred her into a Trust for the benefit of the people of Te Taitokerau Northland. Russell still remains involved on the Board of Trustees along with 7 others who contribute their time willingly so support the Trust.
Our Mission
The mission of the R. Tucker Thompson Sail Training Trust is:
Learning for Life through the Sea
Through embracing the values of Kaitiakitanga – GuardianShip, we wish to:
Preserve the tradition of tall ship sailing and specifically the R. Tucker Thompson
Allow those who sail in her to learn more about who we are, where we come from and where we are going
Make a positive difference to the lives of those who come on board, whether for a day, a week or longer
Our Vision
To maintain the ship in top condition to therefore preserve the tradition of tall ship sailing and marlinspike skills
To provide a variety of activities and opportunities to enable and inspire as many people as possible to share in the R. Tucker Thompson
To promote local employment and the vocational growth of our community
To optimize trading (commercial) results in order to foster and promote training results
That the R.Tucker Thompson will be an iconic product in the Bay of Island, New Zealand
To create a secure financial base from which to expand the influence of the R.Tucker Thompson
Learning for Life through the Sea
Learning:
about yourself, about your crew, colleagues and friends; about your environment, your history and your culture
Life skills: To have fun, to communicate, to be part of a team; to push yourself to new challenges and not be frightened of failure; to know who you are
Learning for life To use these skills to be a worthy member of your family or whanau, in your work as a supportive team member and trustworthy employee, with your friends as a good mate.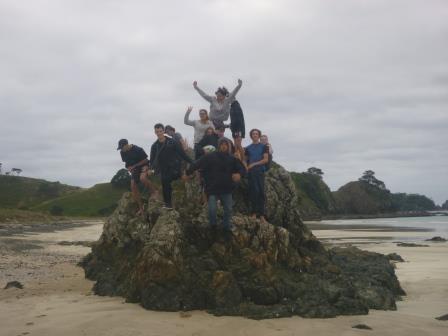 Youth Development voyages
Our Youth Development voyages will provide the opportunity for:
Building confidence
Learning about the environment
Learning about Northland and New Zealand history
Learning about sailing, navigation and safety at sea
Acquiring social skills
Cooking and nutritional skills
Gaining understanding between cultures
And above all, having fun!
Tourism Sailings
Our tourism sailings will allow:
Visitors to Northland to experience our beautiful Bay of Islands
Experience the tradition of tall ship sailing
Challenge themselves, if they wish, to try new things
The opportunity for young Northlanders to gain work experience
Young people to learn about the tourism and hospitality industry
The opportunity for crew to progress towards their Masters Ticket
Special sailings
Our Specialty sailings will allow for:
Learning about Taitokerau Northland and New Zealand history
Learning about our environment and Project Island Song's restoration initiatives
Supporting partnerships that benefit the Bay of Islands and Taitokerau generally
Providing greater understanding of both Maori and Pakeha cultures generally
Learning about tall ship sailing and their traditions
Meeting new friends and learning about each other