School trips made easy
For schools and school aged groups (such as cubs and girl guides) the R. Tucker Thompson is pleased to offer short sailings between 4.00 – 6.00 pm on Mondays, Tuesdays, Thursdays and Saturdays during our tourism season. These cost $25 per person regardless of age and provide a great opportunity to experience a short tall ship sailing.
We also support the Bay of Islands Education Network, a collective of operators who are working together to provide educational experiences to New Zealand students. This new collective supersedes the original Bay of Islands Field Trips that the Tucker has been offering since 2007, however the product we will be supplying is identical. You will still be able to book your 2-hour school sailings from Russell Wharf at 4.00 pm on Mondays, Tuesdays, Thursdays and Saturdays. But now there will be a far greater range of other activities to choose from.
As a collective, the aim of the Bay of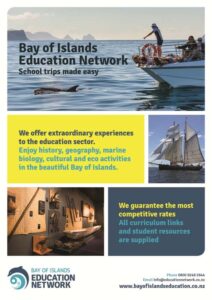 Islands Education Network is to offer extraordinary experiences to the education sector. You'll be able to choose from a range of history, geography, marine biology, cultural and eco-activities in the beautiful Bay of Islands. You'll also be able to organise your accommodation too, all with a one-stop-shop.
Providers in the Bay of Islands Education Network will provide curriculum links and student resources for the activities and you can be sure of receiving the best possible rates around.
If you do not wish to book through the Bay of Islands Education Network, you are welcome to book direct. Please phone 0800 TUCKER or email us on info@tucker.co.nz. Please check our schedule to see if the ship is available for your group.
For sailings outside our tourism season, please not we have limited availability due to our youth voyage schedule. We are happy to receive your enquiry but will operate a minimum of 3 hour sailings as the ship will be based at Opua.