New voyage video
Check out our new video, which gives you a glimpse into life on board a tall ship during a 7-day youth voyage. Venture into the unknown… and change your life forever. Lyrics by Maea Shepherd
Back by popular demand, our Whangarei Kiddies Pirate Sail is returning on Saturday 26 May 2018. Book early to avoid disappointment! Book online here.
Now is your chance to go sailing on a tall ship! Join us on our public sailing in Whangarei Harbour for a 2-hour sail on Saturday 26 May 2018. Details here.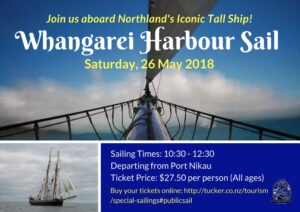 LIVE DAY in Whangarei!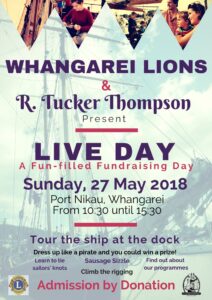 On Sunday 27 May 2018, in collaboration with the Whangarei Lions, we will be hosting a "Live Day" in Port Nikau, Whangarei. Visitors are welcome to come take a look at the "Tucker" at the dock, between 10:30 and 15:30.
Did you ever wonder what this tall ship looks like down below? Where do people sleep? Eat? Shower? What about climbing the rigging as sailors do? We'll teach you a few knots and sailors' tricks while you are aboard and answer any questions you may have.
Dress up as a pirate and you could win a prize! There will even be a sausage sizzle, buy yourself a sausage and let's have a chat about our fantastic youth programme.
Admission is by donation
Bay of Islands Sailing
The best day of any holiday in New Zealand!
Youth development voyages
Venture into the unknown and change your life forever!
The R. Tucker Thompson is held in Trust for the benefit of the people of Taitokerau Northland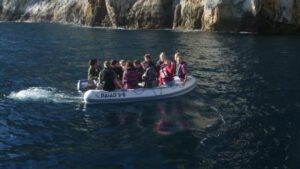 Ahoj from the Good Ship R.Tucker Thompson, powering our way to the final day of the Tai Tokerau Challenge. What a week of competition and comradeship, as we wind down to the final event and tally up the points. Today the trainees woke to the engine starting in...
read more
We are tied to the ocean. And when we go back to the sea, whether it is to sail or to watch, we are going back from whence we came.
John F Kennedy